Instantly Southern: 85 Southern Favorites for Your Pressure Cooker, Multicooker, and Instant Pot® (Paperback)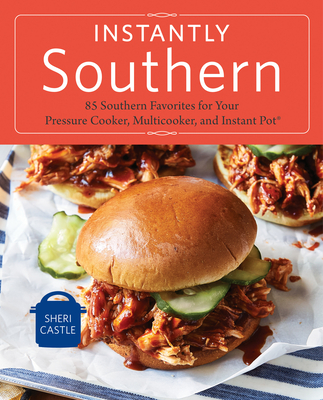 $16.99
Usually Ships in 1-5 Days
Description
---
Your favorite Southern recipes just got a lot easier thanks to your multicooker and Instant Pot®!

Sheri Castle streamlines go-to Southern dishes to be one-button easy for cooking in an Instant Pot®, multicooker, pressure cooker, or slow cooker. From jambalaya to deviled eggs and praline cheesecake, in Instantly Southern you'll find 85 ways to get fresh, delicious, and soulful breakfasts, lunches, and dinners on the table with less fuss than ever. Featuring supermarket staples such as winter squash, beef chuck roast, pork shoulder, and sweet potatoes, as well as signature Southern ingredients like okra, greens, beans, and Bourbon, these dishes are easy to know and love. Whether you're cooking for company or your family on a hectic night, there are plenty of tempting options for every meal throughout the day.
* BREAKFASTS: Shrimp and Stoneground Grits; Ham and Cheese Bread Pudding; Hummingbird Coffee Cake with Pineapple Cream Cheese Glaze
* HEARTY MAINS: Holiday Ham with Ginger-Peach Glaze; Chicken and Fluffy Dumplings; Bourbon and Cola Beef Short Ribs
* SOUPS, SALADS, and HEALTHY SIDES: Winter Squash Soup with Apple Butter Cream; Barley, Peach, and Cherry Salad with Sweet Tea Vinaigrette; Quick Greens
* DESSERT!: Red Velvet Cheesecake; Salted Caramel Banana Pudding; Pineapple-Upside Down Cake<
About the Author
---
SHERI CASTLE is a highly regarded Chapel Hill-based cookbook author, recipe developer, and cooking teacher. She authored both the Southern Living Community Cookbook and the Southern Foodways Alliance Community Cookbook; her cookbook, The New Southern Garden Cookbook, was the winner of Cookbook of the Year by the Southern Independent Booksellers' Association. Sheri is a frequent contributor to Southern Living, The Kitchn, and many others.
Praise For…
---
A Best Book of 2018:
—Country Living
—The Atlanta Journal-Constitution
—The Washington Post
—Post and Courier

"If Sheri Castle gives me a kitchen tip, I take it seriously. She has completely convinced me that I can't cook another day without my own Instant Pot."
—Vivian Howard, award winning chef, author, and host of A Chef's Life

"Sheri has always had the unique ability to anticipate just what it is we're craving. She's arrived right on time to satisfy our hunger for fresh Southern food with the help of the multicooker. I'm going to cook my way through this book, and the Hoppin' John Risotto is where I plan to start!"
—Hali Bey Ramdene, food director, The Kitchn

"I trust Sheri Castle's Southern kitchen know-how so much that I would gladly spend a whole weekend on a recipe she crafted. It's just gravy that she's applied that same expertise to multicooker recipes so it only takes a fraction of the time to get them to the table. And even better—there are plenty of recipes for actual gravy!"
—Kat Kinsman, senior food and drinks editor, ExtraCrispy.com

"This is the Instant Pot cookbook every Southerner needs."
—Southern Living

"This IP title shines a bit brighter than the rest of its ilk because the author is fun to read, and this cuisine takes to the appliance like butter on a biscuit."
—The Washington Post

Featured in Food Network's "The Best Cookbooks to Give With That Instant Pot" December 2018

Featured in Food52's "Our Best Instant Pot Recipes" October 2018 

Featured in Post and Courier's "The very best 2018 food books"