Ballad of an American: A Graphic Biography of Paul Robeson (Paperback)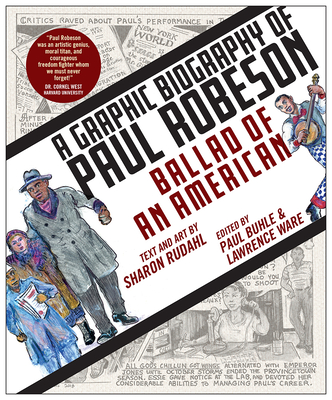 $19.95
Usually Ships in 1-5 Days
Description
---
The first-ever graphic biography of Paul Robeson, Ballad of an American, charts Robeson's career as a singer, actor, scholar, athlete, and activist who achieved global fame. Through his films, concerts, and records, he became a potent symbol representing the promise of a multicultural, multiracial American democracy at a time when, despite his stardom, he was denied personal access to his many audiences.

Robeson was a major figure in the rise of anti-colonialism in Africa and elsewhere, and a tireless campaigner for internationalism, peace, and human rights. Later in life, he embraced the civil rights and antiwar movements with the hope that new generations would attain his ideals of a peaceful and abundant world. Ballad of an American features beautifully drawn chapters by artist Sharon Rudahl, a compelling narrative about his life, and an afterword on the lasting impact of Robeson's work in both the arts and politics. This graphic biography will enable all kinds of readers—especially newer generations who may be unfamiliar with him—to understand his life's story and everlasting global significance.
Ballad of an American: A Graphic Biography of Paul Robeson is published in conjunction with Rutgers University's centennial commemoration of Robeson's 1919 graduation from the university.

View the blad for Ballad of an American.
About the Author
---
PAUL BUHLE, retired Senior Lecturer at Brown University, is the authorized biographer of Pan African giant, C.L.R. James and has written or edited many books on the Left in the US and the Caribbean. He has, in recent years, devoted himself to nonfiction graphic novels, including those on Emma Goldman, Abraham Lincoln, Franklin D. Roosevelt and Eugene V. Debs.

LAWRENCE WARE is a professor of philosophy and co-director of Oklahoma State University's Center for Africana Studies. He writes widely on race and culture for The Root, Slate, and The New York Times. He has been a commentator on race and politics for Huffington Post Live, National Public Radio, and Public Radio International.
 
SHARON RUDAHL marched with Martin Luther King as a teenager and began her career as a cartoonist with anti-Vietnam War underground newspapers. She was one of the founders of the 1970s-era feminist Wimmen's Comix. Rudahl has participated in scores of publications and exhibitions in dozens of countries over the last fifty years. She is best known for her graphic biography, Emma Goldman: A Dangerous Woman.
 
Praise For…
---
"Paul Robeson was an artistic genius, moral titan, and courageous freedom fighter whom we must never forget!"
— Dr. Cornel West
"Sharon Rudahl's graphic biography of Paul Robeson is vivid, well-informed, and deeply moving--a compelling account of a towering American hero, whose courage is more inspiring than ever at this fraught historical moment."
— Jackson Lears
"With powerful drawings, meticulous attention to historical detail, and deep appreciation for his wife, Eslanda Goode Robeson, Rudahl, Buhle, and Ware provide us with a deeply moving tribute to the enormous talent, courage and genius of Paul Robeson." 
— Bettina Aptheker
"With extraordinary rhythm, these arresting drawings and captivating words seamlessly weave insights from critical race theory, global politics, Marxist theory, cultural studies, and historical criticism to narrate the inimitable life of Paul Robeson. Robeson's story is as much a meditation on black aliveness in the face of systemic racism today as it is an insightful history of one man's fortitude against government persecution of yesteryear. This graphic biography captivated me from the first page - I couldn't put it down! It will be a classic in the genre."
— Andre C. Willis
"Ballad of an American takes a creative and thoughtful approach to sharing the life story of the great artist-activist. It is a welcome addition to the body of literature on Paul Robeson."
— Lindsey R. Swindall
"[Ballad of an American] carries an inspiring message at a time in which our country is living amidst the most far-reaching civil rights movement in its modern-day political history."
— Portside
— Literary Hub
"The first-ever graphic biography of alumnus Paul Robeson RC1919 is a suitable introduction to his remarkable life, from his birth in Princeton, New Jersey, to his athletic and academic accolades at Rutgers to his worldwide fame as a film and stage star."
— Rutgers Magazine
— "A Public Affair," WORT
— Zinn Project Education
— Zinn Project Education
— Teaching for Change
"A unique mix of art, history, and radical narrative. It is a welcome introduction to Robeson's unsurpassed contributions to the struggles for workers' rights, African American equality, peace, and—yes—socialism....Ballad of an American is highly recommended and would make a great stocking-stuffer this holiday season."
— People's World
"Much of this book is dedicated to Robeson's political maturity and actions on behalf of the earliest civil rights movement. Also, beautifully depicted in the book is his 1934 visit to the Soviet Union following an invitation from Soviet film director Sergei Eisenstein. Rudahl tells and shows the reader how Robeson stared down and confronted Nazi guards in Berlin as he, Essie and friend Mary Seton anxiously boarded their train into Russia."
— Truthout
"Ballad of an American, released in 2019 on the 100th anniversary of Robeson's graduation from Rutgers University, brings his creative and powerful historical presence to life through Rudahl's striking graphic text and Buhle's and Ware's excellent afterword. Rudahl's review of Robeson's life is a needed antidote to the long and shameful efforts to erase his legacy and drop him down Orwell's memory hole of history."
— Monthly Review