Biff: Quick Responses to High-Conflict People, Their Personal Attacks, Hostile Email and Social Media Meltdowns (Paperback)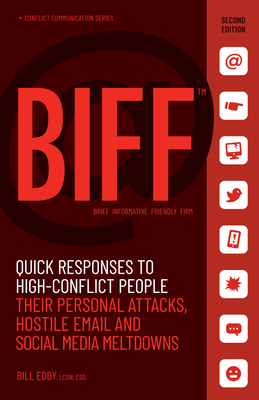 $14.95
Usually Ships in 3-7 Days
Description
---
BIFF IS A GAME CHANGER FOR COMMUNICATING WITH HIGH CONFLICT PEOPLE
We live in an age of rapid change and instant communication. We also live in a Culture of Blame and Disrespect, creating a need to manage our responses to high conflict people (HCPs). A BIFF Response(R) can be applied in any communication anywhere: in an email, a text message, on social media, in a letter or even in person. It can be used at work, earning you respect and success. It can help you get along with difficult family members, friends, neighbors, and others anywhere in your life.
BIFF was designed to protect you and your reputation by responding quickly and civilly to people who treat you rudely, while being reasonable in return. BIFF stands for Brief, Informative, Friendly, and Firm. A BIFF response is easy to remember, but hard to do. It takes practice This first book in the BIFF(TM) Conflict Communication Series is for anyone dealing with high conflict communications. Complete with instructions in the four-step BIFF method, and numerous practical examples, readers will learn the intricacies of stopping the back-and-forth messages and contain the conflict.
This Second Edition includes a new chapter on Coaching for BIFF Responses. Anyone can use this method to help someone else with a BIFF communication by asking 10 simple questions to make it even more effective.

B
rief

I
nformative

F
riendly

F
irm
BIFF is a communication game changer--it works
BIFF for CoParent Communication now available
About the Author
---
Bill Eddy is a lawyer, therapist, mediator, and the co-founder and training director of the High Conflict Institute. He was The Senior Family Mediator at the National Conflict Resolution Center for 15 years, a Certified Family Law Specialist lawyer representing clients in family court for 15 years, and a Licensed Clinical Social Worker therapist with twelve years of experience. Currently, he serves on the faculty of the Straus Institute for Dispute Resolution at the Pepperdine University School of Law in California and is a Conjoint Associate Professor with the University of Newcastle Law School in Australia. He has been a speaker and trainer in over 30 U.S. states and 10 countries. He is the author or co-author of twenty books and has a popular blog on the Psychology Today website with over 4 million views. Bill lives in San Diego, California.