Mexico in Transition: Neoliberal Globalism, the State and Civil Society (Paperback)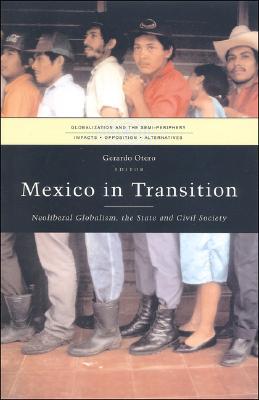 Description
---
Mexico in Transition provides a wide-ranging, empirical and up-to-date survey of the multiple impacts neoliberal policies have had in practice in Mexico over twenty years, and the specific impacts of the NAFTA Agreement. The volume covers a wide terrain, including the effects of globalization on peasants; the impact of neoliberalism on wages, trade unions, and specifically women workers; the emergence of new social movements El Barzón and the Zapatistas (EZLN); how the environment, especially biodiversity, has become a target for colonization by transnational corporations; the political issue of migration to the United States; and the complicated intersections of economic and political liberalization.

Mexico in Transition provides rich concrete evidence of what happens to the different sectors of an economy, its people, and natural resources, as the profound change of direction that neoliberal policy represents takes hold. It also describes and explains the diverse forms of resistance and challenge that different civil-society groups of those affected are now offering to a model the downsides of which are becoming increasingly manifest.
About the Author
---
Gerardo Otero teaches sociology and Latin American studies at Simon Fraser University, Vancouver, Canada.