Four Hundred Million Customers: The Experiences - Some Happy, Some Sad -of an American in China and What They Taught Him (Paperback)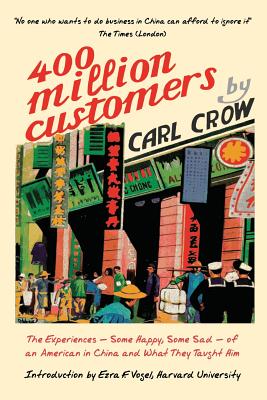 $20.99

Usually Ships in 3-7 Days
This book cannot be returned.
Description
---
Four Hundred Million Customers (1937) is a collection of humorous essays and piquant anecdotes underpinned by well-informed insight and highlighted by witty drawings by G. Sapojnikoff. Like a bowl of salted peanuts, these vignettes make you want "more." The book was welcomed on its publication as the most entertaining and instructive introduction to the rapidly modernizing people of the new China and their resilient customs. While it has been taught in recent years at the Harvard Business School, the book -- or at least its title -- has been cited much more than read, usually to illustrate American illusions about the China market. Yet the book has lost none of its still perceptive insights into China, which is now more than triple "four hundred million."
"Crow, living in Shanghai in the early twentieth century], wrote in a bemused manner about city dwellers. While] Crow's book was of little value to the China watcher of the 1950s and 1960s . . . once Chinese reform and opening took off after 1978, the clever city dwellers that Crow described in the 1930s are a far better guide to the China of today than Edgar] Snow's revolutionaries or Pearl] Buck's peasants.
"I have a former student, a successful businessman, who opened a factory in Shanghai a few months ago. On his reading stand he keeps a copy of Four Hundred Million Customers. 'No other book, ' he said, 'including many more contemporary works on the Chinese economy, provides as much insight into the business environment I face. And it helps me keep my sense of humor as I face the frustrations of doing business in China.' No need to repeat the wonderful stories and phrases found in the book. Enjoy."
-- from the Introduction by Ezra F. Vogel