Head Games: Medical Thriller (Paperback)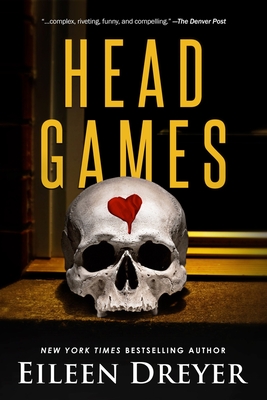 $19.99
Email or call for price.
Description
---
She's seen it all, until…Head Games, a Medical Thriller from Eileen Dreyer

—2004 - St. Louis, Missouri—

St. Louis death investigator and trauma nurse Molly Burke has seen just about everything, until gifts begin showing up on her doorstep—gifts like human eyes and painted bones—the signature of a twisted serial killer.

Complicating the dangerous situation, Molly's 16-year-old nephew unexpectedly shows up on her doorstep, with problems of his own.

Now, Molly must balance the investigation into the mind of a monster, who's taking her back to the worst years of her life, while launching a rescue mission for her nephew. The question is, will she survive either?

Publisher's Note: No one writes medical thrillers better than former Trauma Nurse, Eileen Dreyer. This tight medical thriller contains profanity consistent with the salty speech of crime investigators and does NOT contain sexual content.

"A tensely plotted thriller that compels the reader to the last shocking page…Dreyer deftly displays her droll sense of humor while spinning a tale of taut terror…complex, riveting, funny, and compelling." ~The Denver Post

"Nearly flawless. The dialogue is witty, yet shot through with verisimilitude. The insights into hospitals, medical examiners' offices, police departments, and the military are stunning." ~St. Louis Post-Dispatch

Other Thrillers From Eileen Dreyer
A Man to Die For
Nothing Personal
Brain Dead
Bad Medicine
If Looks Could Kill
City of the Dead
With a Vengeance
Head Games

About the Author
---
New York Times Bestselling author Eileen Dreyer, Kathleen Korbel to her Silhouette readers has published over forty books and ten short stories in suspense and a plethora of subgenres in romance.