The Greatest Pretender: 1 Youth Leader, 4 Abortions, 18 Years of Secrecy (Paperback)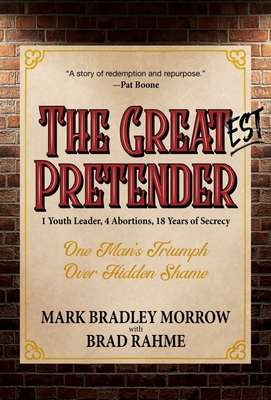 $19.99

Usually Ships in 3-7 Days
Description
---
For every one of the more than three thousand abortions occurring daily in the United States alone, a man is fifty percent responsible.
There are one, maybe two books written from the perspective of abortive fathers and the desperate guilt, shame, and torment they silently endure. The Great Pretender is the unlikely story of a broken young Christian man who struggles with the glaring dichotomy of his proclaimed faith, while desperately trying to make sense of his crumbling life.
There were no headlines about Mark Bradley Morrow and the three women he impregnated. His hypocrisy never exposed, Mark would continue speaking in churches, counseling teenagers, and leading a DOVE-nominated Christian radio show for eighteen years. For the first time, Mark Bradley Morrow walks readers, step by agonizing step, through his story of finding redemption and healing from a secret path. Yet, his total surrender threatens to take everything he worked for and everyone he loves--what will be the aftermath?