I Walk With Monsters: The Complete Series (Paperback)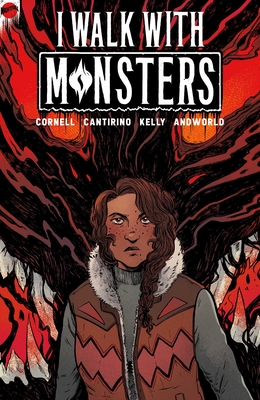 Description
---
In her past, the Important Man took away Jacey's brother. Now Jacey has David, who is sometimes a monster. Together, they hunt those who prey on the vulnerable. But the Important Man is still out there.

MONSTERS WALK BESIDE US ALL, AND SOMETIMES LURK WITHIN.

In Jacey's past is the Important Man who took away her brother. Now Jacey has David, who sometimes transforms into a terrifying beast. Together, they've found a way to live--and to hunt, sniffing out men who prey on the vulnerable. But Jacey and David are about to run into the Important Man again. From Paul Cornell (Wolverine, Doctor Who, Elementary) and Sally Cantirino (Last Song, We Have To Go Back) comes a haunting story about the monsters that walk beside us all, and sometimes lurk within.

Collects the complete six-issue series.

"Really looking forward to it." - Neil Gaiman, author of The Sandman, American Gods, Anansi Boys, Good Omens, Coraline, The Graveyard Book, and more.

Named one of "The Best Comic Books and Graphic Novels of 2021" - Thrillist


About the Author
---
Paul Cornell has written episodes of Elementary, Doctor Who, Primeval, Robin Hood and many other TV series, including his own children's show, Wavelength. He's worked for every major comics company, including his creator-owned series I Walk With Monsters for The Vault, The Modern Frankenstein for Magma, Saucer State for IDW and This Damned Band for Dark Horse, and runs for Marvel and DC on Batman and Robin, Wolverine and Young Avengers. He's the writer of the Lychford rural fantasy novellas from Tor.com Publishing. He's won the BSFA Award for his short fiction, an Eagle Award for his comics, a Hugo Award for his podcast and shares in a Writer's Guild Award for his Doctor Who. He's the co-host of Hammer House of Podcast.

Hometown: Gloucestershire, UK

https://www.paulcornell.com/

https://twitter.com/Paul_Cornell

https://www.instagram.com/paulcornell2096/

Sally Cantirino is a comic artist and illustrator currently based in New Jersey. She has been self-publishing comics and zines since she was a teenager. Her recent comics work includes "The Final Girls", "Last Song", and "We Have To Go Back". She has also done artwork for World Champ Game Co and bands like La Dispute and Murder By Death.
Praise For…
---
"Really looking forward to it."
— Neil Gaiman

"Like many of the best horror stories, I Walk With Monsters forces us to ask what it really means to be a monster, and whether it's ever possible to escape from the realm of the monstrous. Equal parts character study and gory thrillride, this comic left me both disturbed and desperately eager to see where the story goes next."
— Charlie Jane Anders

"A deliciously compelling intro to what promises to be a unique horror tale, with a hook so perfectly twisted it's abominable."
— Si Spurrier

'Tender and terrifying, deeply horrible and deeply human, 'I Walk With Monsters' is Cornell at his finest- and his finest is very dark indeed. Which is surprising, because he seems like such a nice man.'
— Laurie Penny

Named one of "The Best Comic Books and Graphic Novels" of 2021

"The art is not only gorgeous but evokes the feeling of falling back into traumatic memories with an eye that is both unflinching and sympathetic."
— THRILLIST