The Gifted Generation: When Government Was Good (Hardcover)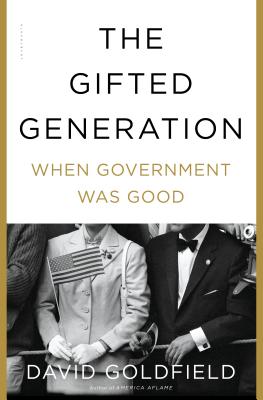 Description
---
A sweeping and path-breaking history of the post–World War II decades, during which an activist federal government guided the country toward the first real flowering of the American Dream.

In The Gifted Generation, historian David Goldfield examines the generation immediately after World War II and argues that the federal government was instrumental in the great economic, social, and environmental progress of the era. Following the sacrifices of the Greatest Generation, the returning vets and their children took the unprecedented economic growth and federal activism to new heights. This generation was led by presidents who believed in the commonwealth ideal: the belief that federal legislation, by encouraging individual opportunity, would result in the betterment of the entire nation. In the years after the war, these presidents created an outpouring of federal legislation that changed how and where people lived, their access to higher education, and their stewardship of the environment. They also spearheaded historic efforts to level the playing field for minorities, women and immigrants. But this dynamic did not last, and Goldfield shows how the shrinking of the federal government shut subsequent generations off from those gifts.

David Goldfield brings this unprecedented surge in American legislative and cultural history to life as he explores the presidencies of Harry S. Truman, Dwight D. Eisenhower, and Lyndon Baines Johnson. He brilliantly shows how the nation's leaders persevered to create the conditions for the most gifted generation in U.S. history.
About the Author
---
David Goldfield is the Robert Lee Bailey Professor of History at the University of North Carolina, Charlotte. He is the author of many works and textbooks on Southern history, including Still Fighting the Civil War, Southern Histories, Black, White and Southern, and Promised Land.
Praise For…
---
"This is cheering stuff, a reminder that America, which was already a great nation, became a greater nation when government policies were able to help release the potential of its citizenry . . . Goldfield's pages are filled with freshly unearthed nuggets." - New York Times Book Review

"A sweeping political and social history of America from the end of World War II to the present . . . [The Gifted Generation] recounts a phenomenon that many Americans have never experienced and don't believe is possible--a government that works . . . Goldfield tells the real story of how to make America great again." - Washington Post

"An American history that serves as a heartfelt plea for a revival of socially responsible leadership." - Kirkus Reviews

"Nicely wrought sketches of well- and lesser-known figures. The book's strengths are its measured tone, lively prose, and comprehensive coverage." - Publishers Weekly

"The Gifted Generation powerfully shows that while we often think of the 1950s and 1960s as golden years of widespread prosperity, much of this economic leveling was achieved through federal policies and not the invisible hand of laissez-faire markets . . . Goldfield's survey of the Gifted Generation is comprehensive . . ." - LA Review of Books

"Goldfield argues compellingly that wise and dedicated politicians can use the power of the federal government to change and dramatically improve our society . . . This work reminds us that government action can be widely beneficial." - Booklist

"A comprehensive account of the 'gifted generation,' those born from 1940 through 1952. The author presents a compelling case that these early boomers were beneficiaries of an expansive government and an era of optimism, presided over by Presidents Harry Truman, Dwight Eisenhower, and Lyndon B. Johnson." - Library Journal

"Goldfield is a skillful storyteller." - Minneapolis Star Tribune

"Activist government has been so demonized that we forget how much the federal government did to create the broad and prosperous middle class that led our nation to (yes) greatness after World War II. David Goldfield cures our amnesia with a sparkling, sweeping and deeply engaging account of an era 'when government was good' because so many Americans recognized the good that it did. May The Gifted Generation change this generation's view of the progress that is possible." - E.J. Dionne Jr, author of OUR DIVIDED POLITICAL HEART and ONE NATION AFTER TRUMP (forthcoming, Sept. 2017)

"The 'gifted generation' are the early baby boomers, born beginning in 1940-41 (he accurately dates the boom's start then, rather than the conventional 1946). Deftly weaving national-level policies and events with plain-folks vignettes, Goldfield shows how the gifted lived the 'commonwealth ideal,' the federal activism of FDR, Truman, Eisenhower, and LBJ--and how it declined into the 'Great Regression' of the past few decades. This is a fine new (and hopeful) history of postwar America." - Walter Nugent, author of HABITS OF EMPIRE: A HISTORY OF AMERICAN EXPANSION

"A clearly argued, richly detailed, and provocative book. Goldfield suggests that the accomplishments of the so-called 'Greatest Generation' were due to the social supports they won in the aftermath of the Depression and WWII and then gifted to the next generation." - Stephanie Coontz, author of THE WAY WE NEVER WERE: AMERICAN FAMILIES AND THE NOSTALGIA TRAP

"President Ronald Reagan famously insisted that 'government is not the solution to our problem; government is the problem.' David Goldfield's gracefully written The Gifted Generation is a bracing reminder that the first three presidents after Franklin Roosevelt demonstrated in concrete ways that an activist government did have a critical and positive role to play in improving the lives of Americans, black and white, poor and middle class. Harry Truman, Dwight Eisenhower and Lyndon had their partisan differences, but they shared a belief in the 'Commonwealth' ideal: a government that strengthened individualism by promoting equal opportunities for all its citizens." - Dan T. Carter, author of THE POLITICS OF RAGE and Bancroft Prize winner

"David Goldfield blends solid scholarship with eloquent writing to argue that dynamic federal leadership was last practiced by activist presidents, 1945-68. He deserves particular credit for recognizing Dwight Eisenhower's contribution, so shamefully neglected by historians. Goldfield skillfully reminds us that the continuing issue is not big or small government but 'good government.'" - David A. Nichols, author of IKE AND MCCARTHY

"Riveting, often heartbreaking . . . [A] masterly synthesis of political, social, economic and religious history . . . Most history books try to explain the past. The exceptional ones, of which America Aflame is a distinguished example, remind us that the past is ultimately as inscrutable as the future." - Andrew Delbanco, The New York Times Book Review on AMERICA AFLAME

"A monumental new appraisal of the war." - Los Angeles Times on AMERICA AFLAME

"Goldfield's narrative of the war proper is especially good, evoking the horror of the fighting and its impact on soldiers and civilians. The result is an ambitious, engrossing interpretation with new things to say about a much-studied conflagration." - starred review, Publishers Weekly on AMERICA AFLAME

"Goldfield writes more as a novelist than an academic . . . A wonderful portrait of a nation scarred yet transformed." - Forbes on AMERICA AFLAME