Winning Wars amongst the People: Case Studies in Asymmetric Conflict (Paperback)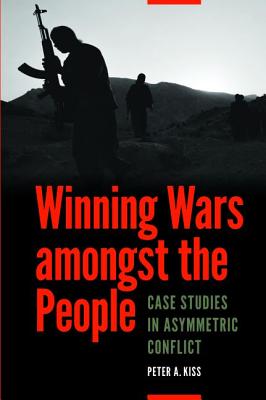 $29.95

Usually Ships in 3-7 Days
Description
---
Since the end of World War II a paradigm shift has occurred in armed conflict. Asymmetric, or fourth-generation warfare—the challenge of nonstate belligerents to the authority and power of the state—has become the dominant form of conflict, while interstate conventional war has become an increasingly irrelevant instrument of statecraft. In asymmetric conflicts the enemy is often a fellow citizen with a different vision for the future of the country—waging war among the people, maneuvering on the borderlines between parliamentary politics, street politics, criminal activity, and combat operations.
Winning Wars amongst the People analyzes the special circumstances of asymmetric conflicts in the domestic context and seeks to identify those principles that allow a democratic state's security forces to meet the challenge, while at the same time obey their homeland's laws, protect its culture, observe its values, and maintain its liberties, traditions, and way of life. Using five detailed case studies, Peter A. Kiss explains the fundamental differences between the paradigm of conventional warfare and that of asymmetric warfare as well as the latter's political, social, and economic roots and main characteristics. Most important, he identifies the measures a government must take to prepare its security forces and other institutions of state for an asymmetric conflict.
About the Author
---
PETER A. KISS served twenty years in the U.S. Army, where he learned firsthand the tactics of asymmetric warfare as a parachute infantryman and intelligence specialist. Kiss is currently an instructor at the National University of Public Service in Budapest, Hungary, and an independent security consultant. He is the author of numerous articles and essays and two books in Hungarian.
Praise For…
---
"Highly recommended."—
Soldier Magazine
"I would recommend this book for students in Western command and staff colleges as a useful addition to current doctrine regarding homegrown domestic jihad."—Phillip Wilkinson,
Marine Corps University Journal
"One of the few authors to understand fourth-generation warfare (4GW) correctly. Peter Kiss has written the most important book on 4GW since Martin van Creveld's
The Transformation of War
.
Winning Wars amongst the People
focuses on the real 4GW threat, that within first-world countries. Anyone involved with state security should read this book."—William S. Lind, author of Maneuver Warfare Handbook
"Peter Kiss has taken a complex issue and provided a readable book using an analytical matrix that provides a great tool to look at common and complex issues in asymmetric warfare. This book should be required reading for all military officers, NCOs, and political personnel in positions of policy making."—Leonard C. Blevins, Colonel, U.S. Army Special Forces (Retired)


"Winning Wars amongst the People is a gem for its thorough analytical and prescriptive framework on how a modern nation state can identity, prepare for, and defeat internal asymmetric (fourth generation) warfare threats within the boundaries imposed by national and international constraints without relying on foreign intervention."—Alan Davis, Brigadier General, U.S. Army (Retired)