Surfmen and Shipwrecks: Spirits of Cape Hatteras Island (Lighthouse Kids #4) (Paperback)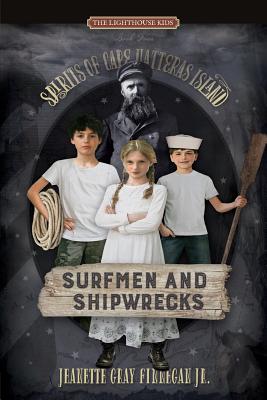 $14.95
Usually Ships in 1-5 Days
Other Books in Series
This is book number 4 in the Lighthouse Kids series.
Description
---
Living in the shadow of the mighty Cape Hatteras Lighthouse, miles from the village, Ellie, Luke, and Blake exist in a world of spirits, mystical wolves, and stories told by their grandfather, the keeper of the lighthouse. In the fourth of a five-volume series, the three children of the Jennnette family travel back in time to discover the origin of their ancestors and the events that shaped the civilization of Cape Hatteras Island. Throughout the series, islanders live as they did when only an occasional mail boat kept them connected to the rest of the world--before a bridge linked the island to the mainland, before tourists flocked to the area during the summer season, and before the government became involved in managing the land. Isolated from others, they created a life of comfort and community, one that is long lost. In each subsequent volume, the Lighthouse Kids meet the people and experience the events that gradually transformed Cape Hatteras Island to the popular resort area it is today.
In Surfmen and Shipwrecks, we learn of the stories surrounding the fearless seamen of the Lifesaving Service and their courageous attempts to provide safe passage past the dreaded Diamond shoals and through the storms. These simple island men were heroes, and represented the fabric of the seven communities that made up Cape Hatteras Island. The children's adventures continue. Luke accidentally takes part in one of the rescues and gains a great deal of admiration for the lifesavers. Ellie taps into her mental awareness and has a vivid dream of the future of her home near the Lighthouse and Blake becomes the owner of a horse of remarkable powers, who, in the future will save his life.