Love Is Letting Go of Fear, Third Edition (Paperback)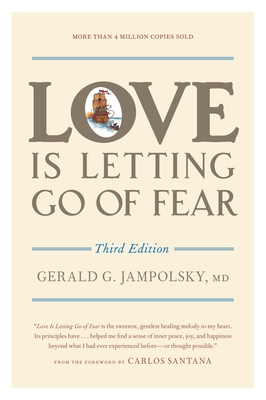 Description
---
After more than thirty years, Love Is Letting of Fear continues to be among the most widely read and best-loved classics on personal transformation. Both helpful and hopeful, this little gem of a guide offers twelve lessons to help us let go of the past and stay focused on the present as we step confidently toward the future.
 
Renowned all over the world as the founder of Attitudinal Healing, Dr. Gerald Jampolsky reminds us that the impediments to the life we long for are nothing more than the limitations imposed on us by our own minds. Revealing our true selves, the essence of which is love, is ultimately a matter of releasing those limited--and limiting--thoughts and setting our minds free.
 
Love Is Letting of Fear has guided millions of readers along the path of self-healing with its deeply powerful yet profoundly humble message. Embrace it with an open mind and a willing heart and let it guide you to a life in which negativity, doubt, and fear are replaced with optimism, joy, and love.
About the Author
---
GERALD G. JAMPOLSKY, MD, a graduate of Stanford Medical School, is an adult and child psychiatrist. The author and coauthor of seventeen books, he is also the founder of the first Center for Attitudinal Healing, now worldwide, and cofounder of Attitudinal Healing International, www.ahinternational.org. When he isn't traveling and teaching around the world, Dr. Jampolsky and his wife, Diane Cirincione, PhD, call Northern California and Hawaii home.