The Chastening: Inside The Crisis That Rocked The Global Financial System And Humbled The Imf (Paperback)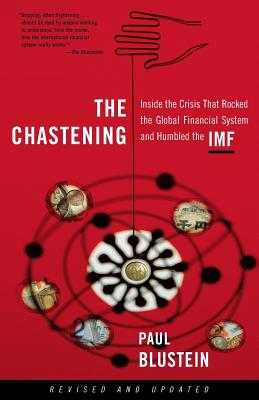 $23.99
Usually Ships in 3-7 Days
Description
---
Lauded by reviewers and scholars alike, Paul Blustein's The Chastening examines the role of the International Monetary Fund in the series of economic crises that rocked the globe in the last decade. Based on hundreds of interviews with officials at the IMF, the World Bank, the U.S. Treasury, the Federal Reserve, the White House, and many foreign governments, The Chastening offers a behind-the-scenes look at the Fund during an extraordinarily turbulent period in modern economic history and at a time when the IMF has become the object of intense political controversy.

While the IMF and its overseers at the Treasury and the Fed have sought to cultivate an image of economic masterminds coolly dispensing effective economic remedies, the reality is that as markets were sinking and defaults looming, the guardians of global financial stability were often floundering, improvising, and feuding among themselves. The Chastening casts serious doubt on the IMF's ability to combat of investor panics at a time when massive flows of money traverse borders and oceans.

A readable, compelling account of the deeply flawed workings of the international political system, The Chastening is vital reading for students and scholars of international diplomacy, government, and economic and public policy.
About the Author
---
Paul Blustein is Journalist in Residence at the Global Economy and Development Program at the Brookings Institution. For twenty years he was a staff writer at the Washington Post, where he covered business and economic issues. His work has won several prizes, including business journalism's most prestigious, the Gerald Loeb Award. Blustein lives in Bethesda, MD.
Praise For…
---
Wall Street Journal, April 18, 2002
"Gets way behind the headlines to bring us a clear and lively story, crammed with anecdotes and background...a superbly reported and skillfully woven story documenting an incredible number of costly and dangerous IMF mistakes."
The Economist, May 4, 2002
"Gripping, often frightening...should be read by anyone wanting to understand, from the inside, how the international financial system really works."

Financial Times, December 2, 2001
"Paul Blustein has achieved the improbable: he has written a riveting thriller about the International Monetary Fund."

New York Times Book Review, February 17, 2002
"…Blustein tells the story [of the Asian financial crisis] with admirable aplomb…[He] demonstrates with an overwhelming wealth of anecdotal detail …The book is thoroughly sensible."

New York Review of Books
"A fascinating story that is a model of investigative journalism."

Alan Cowell, New York Times Sunday Business Section, October 14, 2001
"Mr. Blustein follows this crisis from Asia to Latin America with a storyteller's eye for dialogue and details."
—
-