The Invention of Miracles: Language, Power, and Alexander Graham Bell's Quest to End Deafness (Hardcover)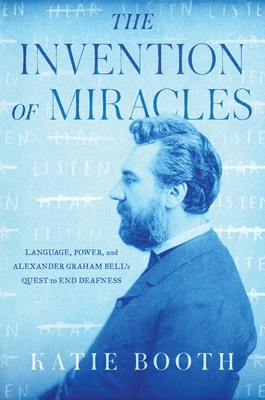 Description
---
An astonishingly revisionist biography of Alexander Graham Bell, telling the true—and troubling—story of the inventor of the telephone.

We think of Alexander Graham Bell as the inventor of the telephone, but that's not how he saw his own career. As the son of a deaf woman and, later, husband to another, his goal in life from adolescence was to teach deaf students to speak. Even his tinkering sprang from his teaching work; the telephone had its origins as a speech reading machine.

The Invention of Miracles is an astonishingly revisionist biography of an American icon, revealing the extraordinary true genesis of the telephone and its connection to another, far more troubling legacy of Bell's: his efforts to stamp out American Sign Language. Weaving together a dazzling tale of innovation with a moving love story, the book offers a heartbreaking look at how a champion can become an adversary and provides an enthralling account of the deaf community's fight to reclaim a once-forbidden language.

Katie Booth has been researching this story for more than fifteen years, poring over Bell's papers, Library of Congress archives, and the records of deaf schools around America. But she's also lived with this story for her entire life. Witnessing the damaging impact of Bell's legacy on her family would set her on a path that overturned everything she thought she knew about language, power, deafness, and the telephone.
About the Author
---
Katie Booth teaches writing at the University of Pittsburgh. Her work has appeared in The Believer, Catapult, McSweeney's, and Harper's Magazine, and has been highlighted on Longreads and Longform; "The Sign for This" was a notable essay in the 2016 edition of Best American Essays. Booth received a number of prestigious fellowships to support the research for The Invention of Miracles, including from the Library of Congress and the Massachusetts Historical Society. She was raised in a mixed hearing and deaf family. This is her first book.
Praise For…
---
"As schoolchildren we learn that Alexander Graham Bell invented the telephone. We don't learn that this is among the least interesting things about him. It takes a book like Katie Booth's The Invention of Miracles to teach us that. Provocative, personal, and exhaustively researched, Booth's book is the rare biography that completely alters a famous person's popular image… Booth has the courage and perspective to portray her subject's deeply flawed humanity, giving the book its poetry and tragic resonance."
— The Boston Globe

"Meticulously researched, crackling with insights, and rich in novelistic detail, The Invention of Miracles is more than the revelatory biography of an inventor who transformed the world. By shining a bright light on society's assumptions about disability, Booth's book is a profound and lyrical meditation on what it means to be human."
— Steve Silberman, New York Times bestselling author of NeuroTribes

"Katie Booth's brave and absorbing book is the story of a contradictory genius whose inventiveness outstripped his compassion… Booth's style is highly poetic, even moving… [and] so scrupulously researched you feel like you're walking alongside the inventor as he strides the Scottish moors or looking over his shoulder as he researches the qualities of different kinds of current in his Boston home."
— Pittsburgh Post-Gazette

"A provocative, sensitive, beautifully written biography of an American genius."
— Sylvia Nasar, New York Times bestselling author of A Beautiful Mind

"Booth's descriptions of Bell's passionate courtship of his student Mabel Hubbard, who belonged to a much higher social class, are as stirring as a romance novel, and her narrative of his work on the telephone reads like a thriller… Her meticulous research and rigor are evident on every page."
— The New York Times Book Review

"A fascinating tale of great love, innovation, personal drama, and the unexpected consequences of good intentions."
— Walter Isaacson, New York Times bestselling author of Steve Jobs

"Refreshingly candid. Booth does a masterful job weaving this powerful and compelling story about fear and obsessive fascination with difference."
— Brian Greenwald, PhD, professor of history at Gallaudet University

"A powerful revisionist text, at once personal, historical, and insightful. As someone born deaf with hearing parents, I think I would have benefitted from being born into a world where ableist attitudes were rooted out and understood the way Booth demonstrates here."
— Raymond Antrobus, author of The Perseverance

"Katie Booth vigorously revises the historical record… [and] reveals a rich history of heights and depths... including the questionable patent process that secured Bell's name in history, the evolution and empowerment of the Deaf community, and Bell's endearing marriage, which survived his own misguided intentions."
— BookPage

"Researched and written through the Deaf perspective, this marvelously engaging history will have us rethinking the invention of the telephone."
— Jaipreet Virdi, PhD, author of Hearing Happiness: Deafness Cures in History