The Liberal Redneck Manifesto: Draggin' Dixie Outta the Dark (Hardcover)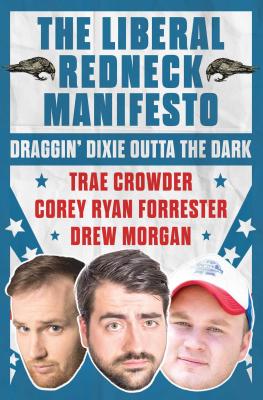 $25.00
Email or call for price.
Description
---
The Liberal Rednecks—a three-man stand-up comedy group doing scathing political satire—celebrate all that's good about the South while leading the Redneck Revolution and standing proudly blue in a sea of red.

Smart, hilarious, and incisive, the Liberal Rednecks confront outdated traditions and intolerant attitudes, tackling everything people think they know about the South—the good, the bad, the glorious, and the shameful—in a laugh-out-loud funny and lively manifesto for the rise of a New South. Home to some of the best music, athletes, soldiers, whiskey, waffles, and weather the country has to offer, the South has also been bathing in backward bathroom bills and other bigoted legislation that Trae Crowder has targeted in his Liberal Redneck videos, which have gone viral with over 50 million views.

Perfect for fans of Stuff White People Like and I Am America (And So Can You), The Liberal Redneck Manifesto skewers political and religious hypocrisies in witty stories and hilarious graphics—such as the Ten Commandments of the New South—and much more! While celebrating the South as one of the richest sources of American culture, this entertaining book issues a wake-up call and a reminder that the South's problems and dreams aren't that far off from the rest of America's.
About the Author
---
Trae Crowder grew up in rural Tennessee and has been writing and performing comedy for six years while also working for the federal government. He was the first person in his family to graduate from college and earn an MBA. After his Liberal Redneck videos went viral, he appeared on a number of television and radio shows. He lives in East Tennessee with his wife and two young sons.

Corey Ryan Forrester has been writing and performing stand-up comedy since he was sixteen and hails from North Georgia. He helped his mother and sister run their family bakery in his hometown of Chickamauga while hawking jokes at night in dingy bars and has an affinity for Southern wit and storytelling.

Drew Morgan is a stand-up comedian, writer, and husband from rural East Tennessee. He draws on his experiences as a small-town son of a preacher man and former public defender to weave together stories with jokes and observations on culture, religion, and identity. He splits time between New York City and Knoxville, Tennessee, with his wife Andi and dog Mick Jagger Pup.
Praise For…
---
"Being from the south, it's refreshing to know that I'm not alone in thinking like this. These are the kind of guys I'd be happy to debate them on politics OR college football OR drinking OR foreign policy, they're well versed in all."
— Roy Wood, Jr., correspondent "The Daily Show with Trevor Noah"

"It's become so convenient to label places 'Blue States' and 'Red States'. Those terms ignore millions of folks who live in these places, people like Trae, Drew and Corey. Don't get me wrong, these boys are country as hell, but they step to the table with fresh voices and challenge stereotypes at every turn."
— George Wallace, comedian

"For anyone who wants new perspectives on some old held beliefs about what it means to be redneck, read this book and enjoy the laugh-out-loud journey."
— Jim Rich, Editor-in-Chief

"Bitins satire and rib-splitting mockery."
— Daily Kos

"Loud...hilarious...profane."
— Mediaite

"Trae Crowder zigged when you thought he would zag. The self-proclaimed 'Liberal Redneck' turned the image of the bigoted redneck upside down."
— Knoxville News-Sentinel

"Makes more sense than just about every Republican in Congress"
— Patheos

"This 'Liberal Redneck" don't rightly appreciate the prevailing rhetoric in opposition ot gender-neutral bathrooms. Not nary bit."
— Towleroad

"Incisive, smart, liberal, redneck humo on right-wing politics."
— Out & About Nashville

"Destroying Southern stereotypes."
— Fusion