The Remarkable Rough-Riding Life of Theodore Roosevelt and the Rise of Empire America: Wild America Gets a Protector; Panama's Canal; The Big Stick & the Bull Moose; Kids, Pets, and Spitballs in the White House; and Much, Much More (Cheryl Harness Histories) (Hardcover)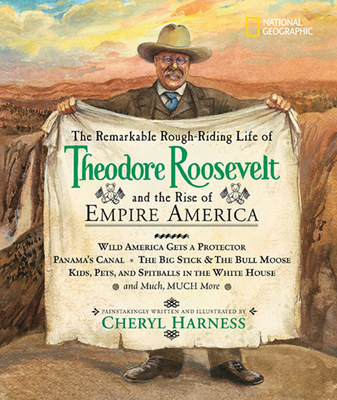 $16.95
Email or call for price.
Description
---
The eagerly awaited third title in the Cheryl Harness Histories series paints a vibrant portrait of Theodore Roosevelt-Rough Rider, trustbuster, explorer, President, and more-whose bullish attitude forever changed America.

How did a sickly boy transform himself into one of the country's boldest leaders? You'll get the full story-front page and behind-the-scenes-as only Cheryl Harness can tell it. Through her lively narrative and engaging artwork, readers will see Teddy riding the range in South Dakota, charging up San Juan Hill in the Spanish-American War, climbing the political ladder all the way to the White House, breaking up big business, building the Panama Canal, and big-game hunting in Africa. They will also experience life in America when the telephone, airplane, and automobile were all brand-new, when women, blacks, and laborers were demanding equal rights, and when the cry for expansion stretched the borders from Maine to the Philippines and from Puerto Rico to Alaska. This was an age in which Roosevelt's promise to give every American a "square deal" and to "walk softly and carry a big stick" helped build the country into a world power.

With a new adventure on almost every page, readers will find themselves "wowed" by this true story of a larger-than-life American hero, and the country and times in which he lived.

National Geographic supports K-12 educators with ELA Common Core Resources.
Visit www.natgeoed.org/commoncore for more information.
About the Author
---
Cheryl Harness is the author and/or illustrator of some 35 books for children, including 7 picture book biographies for National Geographic. She lives in Independence, MO. Visit Cheryl Harness on the Web at www.cherylharness.com.