Philip Sarkis Mystery Set (Hardcover)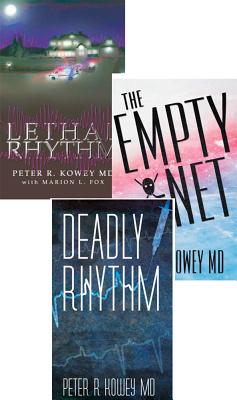 $18.99
Email or call for price.
Description
---
Dr. Peter Kowey is a world master of the medical mystery genre. All three of Peter Kowey's best-selling series featuring Philip Sarkis, the good doctor forced to become a detective in order to protect himself, are available in a this gigantic set.
In Lethal Rhythm, he is sued for malpractice after a young patient dies suddenly and unexpectedly, and then sinks into an alcoholic depression, losing his family and his career. In Deadly Rhythm, an elderly WWII veteran dies in a nursing home under suspicious circumstances. In the midst of dozens of elderly men suddenly expiring and malpractice suits sprouting up, Sarkis is called into the case. As he and his partner Dorothy explore, they uncover a conspiracy, they encounter serious intimidation.
Sarkis and Dorothy are drawn into the murky world of murder again in The Empty Net when the sudden death of a hockey goaltender star, the murder of a malpractice attorney, and the police investigation of Sarkis combine for a dark and se.