Space Station Down (Paperback)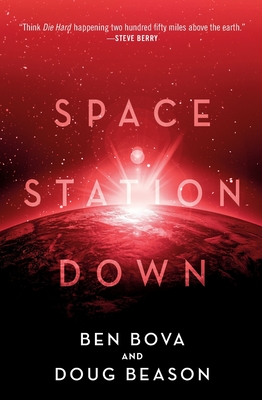 Description
---
Hugo Award-winning author Ben Bova joins forces with Nebula Award finalist Doug Beason for an action-packed technothriller with Space Station Down.

"Think Die Hard happening two hundred and fifty miles above the earth...Will have you watching the skies overhead much more closely."—Steve Berry

When an ultra-rich space tourist visits the orbiting International Space Station, NASA expects a $100 million win-win: his visit will bring in much needed funding and publicity. But the tourist venture turns into a scheme of terror. Together with an extremist cosmonaut, the tourist slaughters all the astronauts on board the million-pound ISS—and prepares to crash it into New York City at 17,500 miles an hour, causing more devastation than a hundred atomic bombs. In doing so, they hope to annihilate the world's financial system.

All that stands between them and their deadly goal is the lone survivor aboard the ISS, Kimberly Hasid-Robinson, a newly divorced astronaut who has barricaded herself in a secure area.
About the Author
---
Ben Bova (1932-2020) was the author of more than a hundred works of science fact and fiction, including Able One, Transhuman, Orion, the Star Quest Trilogy, and the Grand Tour novels, including Titan, winner of John W. Campbell Memorial Award for best novel of the year. His many honors include the Isaac Asimov Memorial Award in 1996, the Lifetime Achievement Award of the Arthur C. Clarke Foundation in 2005, and the Robert A. Heinlein Award "for his outstanding body of work in the field of literature" in 2008.

Dr. Bova was President Emeritus of the National Space Society and a past president of Science Fiction Writers of America, and a former editor of Analog and former fiction editor of Omni. As an editor, he won science fiction's Hugo Award six times. His writings predicted the Space Race of the 1960s, virtual reality, human cloning, the Strategic Defense Initiative (Star Wars), electronic book publishing, and much more.

In addition to his literary achievements, Bova worked for Project Vanguard, America's first artificial satellite program, and for Avco Everett Research Laboratory, the company that created the heat shields for Apollo 11, helping the NASA astronauts land on the moon. He also taught science fiction at Harvard University and at New York City's Hayden Planetarium and worked with such filmmakers as George Lucas and Gene Roddenberry.
Doug Beason, PhD
is a Nebula Award finalist whose work has appeared in numerous magazines and anthologies including
The Wall Street Journal
and
Journal of Computational Physics
. His book
Science and Technology Policy for the post-Cold War: A Case for Long-Term Research
was used as a textbook at National War College and the Air War College. A Fellow of the American Physical Society, Beason has worked on the White House staff for the President's Science Advisor under both the Bush and Clinton Administrations as the key staffer for space science and technology. As the Associate Laboratory Director for Threat Reduction at the Los Alamos National Laboratory, he was responsible for the programs and people that reduced the global threat of weapons of mass destruction. A graduate of the USAF Academy, Doug holds a PhD in Physics, and before moving to Los Alamos, completed a twenty-four year career as an Air Force officer, retiring as a Colonel. He has lived in Canada, the Philippine Islands, and Okinawa.
Praise For…
---
"Think Die Hard happening two hundred and fifty miles above the earth... will have you watching the skies overhead much more closely." —Steve Berry

"One hell of a fine suspense novel." —Stephen Coonts

"An awesomely realistic thriller." —Larry Niven

"Begs for the big screen!" —Ward Larsen

"Rips through your imagination at Mach 25, a suspense-filled rocket that hurtles off the pad and never, never slows down. This hyper-realistic tale is the stuff of space nightmares." —Tom Jones, veteran shuttle astronaut, spacewalker, and author of Sky Walking: An Astronaut's Memoir

"A smart, gripping thriller." —Terry Virts, NASA astronaut, International Space Station commander, Author and Speaker

"Thrilling... It surely captures the close working quarters and challenges of isolation while keeping readers on the edge of their seats wrapped around this story of intrigue, espionage and human terror." —Sean O'Keefe, former NASA Administrator

"Wow! I found myself feeling like I was flying through the space station.... And I should know—I've been there!" —Nicole Stott, ISS & Space Shuttle Astronaut, spacewalker, and aquanaut

"A tense, claustrophobic, space-bound thriller." —Library Journal