Famous in a Small Town (Hardcover)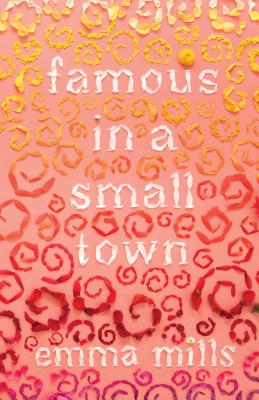 Description
---
For Sophie, small town life has never felt small. With her four best friends—loving, infuriating, and all she could ever ask for—she can weather any storm. But when Sophie's beloved Acadia High School marching band is selected to march in the upcoming Rose Parade, it's her job to get them all the way to LA. Her plan? To persuade country singer Megan Pleasant, their Midwestern town's only claim to fame, to come back to Acadia to headline a fundraising festival.
The only problem is that Megan has very publicly sworn never to return.
What ensues is a journey filled with long-kept secrets, hidden heartbreaks, and revelations that could change everything—along with a possible fifth best friend: a new guy with a magnetic smile and secrets of his own.
About the Author
---
Emma Mills is the author of First & Then, This Adventure Ends, Foolish Hearts, Famous in a Small Town, and Lucky Caller. She lives in St. Louis, Missouri, and has recently completed a PhD in cell biology.
Praise For…
---
"Sweet, witty, and touching . . . a novel that transcends the conventional romance genre." —VOYA, starred review

"Rife with witticism, like a finely honed sitcom, and brimming with heart." —Kirkus Reviews
Foolish Hearts:
"Mills (This Adventure Ends) thoughtfully explores the nuances of all kinds of relationships, both friendly and romantic. . . . Through these friendship struggles and romances old and new, Mills evokes the high stakes and vast rewards of trust, intimacy, and honesty." —Publishers Weekly, starred review

"The characters are wonderfully fresh and honest. . . . The course of true love never did run smooth, but in the case of these two lovers, the journey is worth your while." —Kirkus Reviews
"[Main character] Claudia's. . . voice shines. A fun, thoughtful portrayal of different kinds of vulnerability." —Booklist
This Adventure Ends:
"Immensely enjoyable." —Booklist
"Mills (First & Then) seamlessly creates art imitating life imitating art while bringing freshness to the familiar romantic conventions she invokes. With taut, realistic dialogue, she expertly crafts blossoming friendships and nascent romances." —Publishers Weekly
First & Then:
"With sporadic references to Jane Austen's famous characters and wickedly inventive language, Mills closely observes the social milieu of an American high school. . . . A fresh, smart, inventive, and altogether impressive debut." —Kirkus Reviews, starred review