Island at War: Spirits of Cape Hatteras Island (Lighthouse Kids #5) (Paperback)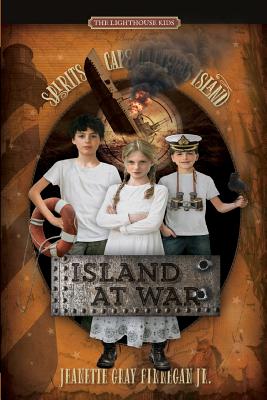 $14.95
Usually Ships in 1-5 Days
Other Books in Series
This is book number 5 in the Lighthouse Kids series.
Description
---
Jeanette Gray finnegan Jr., a tenth generation islander, completes the final book in the five book historical fiction series on the History of Cape Hatteras Island. Book one, CROATOAN, Book two LEGENDS AND LORE, Book three PIRATES and Book four, SURFMEN AND SHIPWRECKS skillfully narrates the earlier Adventures of The Lighthouse Kids. Book five gives an account of island participation in all wars fought by the United States from the English occupation in 1598 until 1945.
One would think that Hatteras would have little or no involvement in wars fought by the mainland. however, history recounts the importance of this island located thirty miles out to sea from the continent.This strip of land, twenty six miles in length and less than a mile wide in most places. stood as a buffer, protecting seven rivers leading to the interior of the country.
Whorever breached this strategic outlook, dominated the middle of the mainland of America. These are stories of the contest between island inhabitants and the mighty powers of Europe attempting to control entrance to the belly of the country.
The book begins with the Indian Wars, and ends with the unbelievable assualt by the Nazi war machine eight miles from the Cape Hatteras Lighthouse during the first six months of 1942. Nineteen U-Boats were in contest with the local fishermen, surfmen, and the ROPER, only destroyer available to help fight the subs. Islanders were wating until the Americans could manufacture the planes and ships necessary to protect these waters. And, when they did the war quickly changed in our favor.
Diamond Shoals is called the Graveyard of the Atlantic, partly due to the hundreds of Merchant ships resting there as a result of torpedoes fired during that six month period. The book tells the conflict of all involved, both islanders and foes. When, "it was just us."