James Madison (Paperback)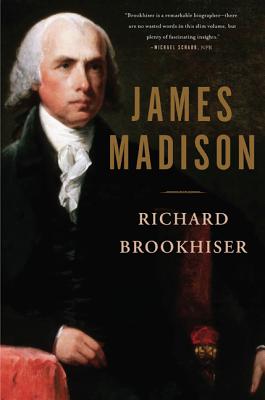 $19.99
Usually Ships in 3-7 Days
Description
---
James Madison led one of the most influential and prolific lives in American history, and his story -- although all too often overshadowed by his more celebrated contemporaries -- is integral to that of the nation. Madison helped to shape our country as perhaps no other Founder: collaborating on the Federalist Papers and the Bill of Rights, resisting government overreach by assembling one of the nation's first political parties (the Republicans, who became today's Democrats), and taking to the battlefield during the War of 1812, becoming the last president to lead troops in combat.

In this penetrating biography, eminent historian Richard Brookhiser presents a vivid portrait of the "Father of the Constitution," an accomplished yet humble statesman who nourished Americans' fledgling liberty and vigorously defended the laws that have preserved it to this day.
About the Author
---
Richard Brookhiser is a senior editor of National Review and the author of eleven books, including James Madison, Alexander Hamilton, American, and Founding Father: Rediscovering George Washington. He lives in New York City.
Praise For…
---
"[Brookhiser's] sprightly narrative will serve as an entertaining introduction for those who are making their first acquaintance with Madison."
—
Richard Beeman
,
New York Times Book Review
"Brookhiser is a remarkable biographer--there are
no wasted words in this slim volume, but plenty of fascinating insights."
—
Michael Schaub, NPR
,
-
"Concise and highly readable.... [Brookhiser]
conveys the man in full."
—
Wall Street Journal
"Brookhiser's engaging biography gives readers a
deeper understanding of who [Madison] was."
—
Walter Russell Mead
,
Foreign Affairs
"In this congenial biography, the fourth
President does indeed shine.... [Brookhiser's] descriptions...combine sentiment
and anecdote in irresistible proportion."
—
NewYorker