The Globalization of World Politics: An Introduction to International Relations (Paperback)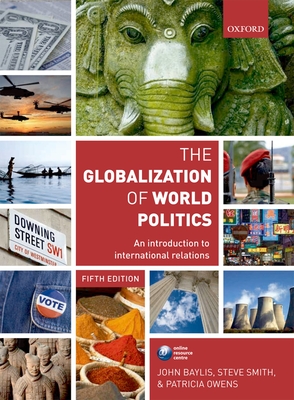 Description
---
Working from a unique non-U.S. perspective, this market-leading text provides a coherent, accessible, and engaging introduction to the globalization of world politics. Now in its fifth edition, this internationally successful text has been fully revised and updated in light of recent developments in world politics. New chapters on post colonialism and post structuralism ensure that it will remain the most comprehensive introduction to international relations available. This exceptional text is ideal for students who are approaching the subject for the first time.
FEATURES
* Presents contributions from an impressive line-up of international experts, each of whom provides accessible but stimulating insights into history, theory, structures, processes, and other key issues in the field
* Offers a visually appealing full-color interior
* Provides a strong pedagogical program, which includes numerous boxes, figures, tables, maps, questions, lively examples, and case studies.
About the Author
---
John Baylis is Pro-Vice Chancellor and Professor of Politics and International Relations at the University of Wales, Swansea.

Steve Smith is Vice-Chancellor and Professor of International Politics at the University of Exeter.

Patricia Owens is Reader in the Department of International Relations at the University of Sussex.