The Alastair Campbell Diaries, Volume One: Prelude to Power, 1947-1997, the Complete Edition (Hardcover)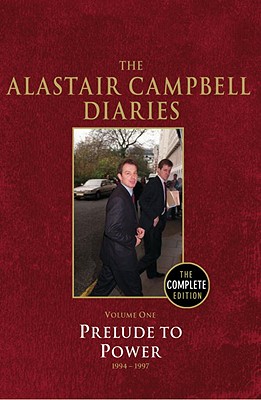 Description
---
As Alastair Campbell said in the introduction to "The Blair Years," it was always his intention to publish the full version, covering his time as spokesman and chief strategist to Tony Blair. "Prelude to Power" is the first of four volumes, and covers the early days of New Labour, culminating in their victory at the polls in 1997.
Volume 1 details the extraordinary tensions between Tony Blair and Gordon Brown as they resolved the question as to which one should stand to become Labor leader. It shows that right from the start, relations at the top were prone to enormous strain, suspicions and accusations of betrayal. Yet it also shows the political and personal bonds that tied them together, and which made them one of the most feared and respected electoral machines anywhere in the world.
A story of politics in the raw, "Prelude to Power" is above all an intimate, detailed portrait of the people who have done so much to shape modern history.
About the Author
---
Alastair Campbellgraduated from Cambridge University with a degree in modern languages. He worked for Blair, first as his press secrtary, then as official spokesman and director of communications and strategy from 1994 to 2003. He has been engaged in writing, public speaking, working for Leukaemia Research as chairman of fundraising, and continuing to advise Blair, Gordon Brown and other leading Labour figures. His first novel, "All In The Mind," and an accompanying award-winning TV documentary, "Cracking Up," led to him being voted Mind Champion of the Year. A second novel, "Maya," was published earlier this year."