America the Vulnerable: How Our Government Is Failing to Protect Us from Terrorism (Paperback)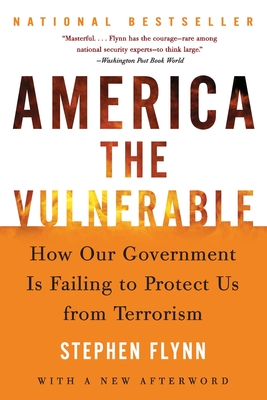 Description
---
In this powerful and urgently needed call to action, national security expert Stephen Flynn offers a startling portrait of the radical shortcomings in America's plan for homeland security. He describes a frightening scenario of what the next major terrorist attack might look like -- revealing the tragic loss of life and economic havoc it would leave in its wake, as well as the seismic political consequences it would have in Washington. Flynn also shows us how to prepare for such a disaster, outlining a bold yet practical plan for achieving security in a way that is safe and smart, effective and manageable.
In this new world of heightened risk and fear, America the Vulnerable delivers a timely, forceful message that cannot be ignored.
About the Author
---
Stephen Flynn is the Jeane J. Kirkpatrick Senior Fellow in National Security Studies at the Council on Foreign Relations. He was the lead author of the task force report "America: Still Unprepared, Still in Danger," and his articles have appeared in Foreign Affairs. He spent twenty years as a commissioned officerin the U.S. Coast Guard, served in the White House Military Office during the George H. W. Bush administration,and was director for Global Issues on the National Security Council staff during the Clinton administration.
Praise For…
---
"If officials in Washington would read just one book, this is it. It should scare us into action."
— Fareed Zakaria, author of The Future of Freedom

"America the Vulnerable will grip you, intrigue you, frighten you and inspire you. Flynn is a genuine expert."
— Norman Ornstein, resident scholar, American Enterprise Institute

"This book had to be written. Flynn's threat scenarios are chillingly persuasive. His urgent prescriptions are compelling."
— Gary Hart, former U.S. Senator, co-chair, the United States Commission on National Security for the 21st Century

"Stunningly detailed. Unsettling but necessary reading for all Americans deeply concerned about the future security of our nation."
— Warren Rudman, former U.S. Senator, co-chair, the United States Commission on National Security for the 21st Century

"A critical read for both our political leaders and every American citizen."
— Jeffrey E. Garten, Dean, Yale School of Management

"A provocative critique by one eminently qualified to make it."
— Kirkus Reviews